Came to kolkata in just 4 days, super speedy. I'm really happy that I found this shop.– Shayani Bose
Simply beautiful, colours and quality, everything perfect. -Kesha Choudhary
I like that its size can be changed, so its perfect for someone like me with a thin wrist and it even fits my mom. Lovely- Anushree Vidyarthi
Free
shipping
Bracelet with multicolored red, yellow, green and lavender marquise-cut and round-cut high quality Zircon crystals paint the scene of autumn on your wrist and the 18K rose gold plating adds the bit of sunshine!
It's a delicate bracelet piece with lobster style clasp and an additional link for adjustable size, so that it fits everyone just perfectly!
Stylist's Notes:
They say that autumn is the second spring when every leaf is a flower. It is the nature's way of painting the earth in the hues of reds, yellows and browns and that's exactly what inspired this amazingly attractive bracelet. Perfect to add a vibrance to any colorful dress.
What's Included:
Material: 
High Grade colored zircon crystals
18 K rose gold plating
High grade lead and nickel free environmental alloy
Size:
Bracelet chain length: 17cm + 3 cm extendable chain
Please see the last product image for more details on sizing
What others are saying
Shayani Bose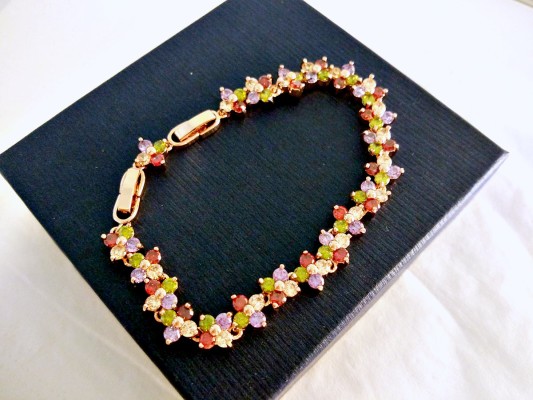 Came to kolkata in just 4 days, super speedy. This bracelet is amazing, totally made my day. As a first time blingvine customer, I'm really happy that I found this shop. More power to you BlingVine.
Kesha Choudhary
Simply beautiful, colours and quality, everything perfect. Best thing it has the extendable chain, so me and my mom both can share this :P
Anushree Vidyarthi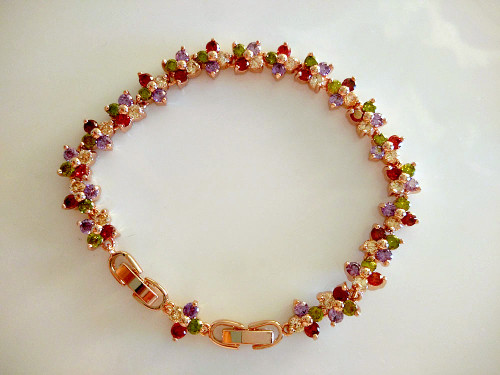 Very elegant bracelet. I like that its size can be changed, so its perfect for someone like me with a thin wrist and it even fits my mom. Lovely.