Free
shipping
An amalgamation of dazzling Marquise cut, Square and round imitation Ruby crystals gave rise to these breathtaking danglers. The earrings radiate glamor and are meant to be for the style divas, the glamistas as we like to refer them!
Stylist's Notes:
The imitation rubies are clustered in a beautiful chaos at the bottom of the earrings while the top thinner rim of the loop is lined by a thin row of clear Swarovski crystals. The design is modern but the 18 K gold plating and the Ruby color stones make them perfectly apt for any traditional setting.
What's Included:
Material:
Top notch Imitation Rubies
Swarovski crystals
18 K gold plating
High grade lead and nickel free environmental alloy
Size:
Width of Danglers: 32 mm
Length of Danglers: 58 mm
What others are saying
Prashanti Singh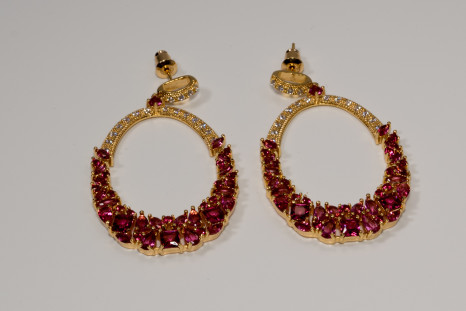 Love these babies! they do total justice to their name, glamorous is the word for these ear candies. Most important, they are really light weight for their size, so I could wear them easily all night long.
Radhika Singhal
These danglers are absolutely gorgeous. Look exactly as in picture. Party wear.