Free
shipping
"Came the spring with all its splendor, all its birds and all its blossoms. All its flowers and leaves and grasses"
Purple blossom long necklace is a reminder that no matter how long the winters are, the spring shall arrive and lighten and brighten everything around. This long necklace is a symbol of hope and happiness. It's a constant reminder that life is beautiful like the spring blossoms. With its delicate design, the serene color combination and the elegance of pearl, this long chain's splendor is unmatched. Grab it before someone else steals it from you.
Product Specifications:
What's Included:
Made of:
Swarovski Crystals
Professional enamel work in purple
Deep sea shell elements
Simulated pearl
Top quality colored glass crystals
18 K rose gold plating
High grade lead and nickel free environmental alloy
Dimensions:
Length of chain: 87 cm
Extended chain: 5.5 cm
Please see the last product image for more details on sizing
What others are saying
Caithali Prakash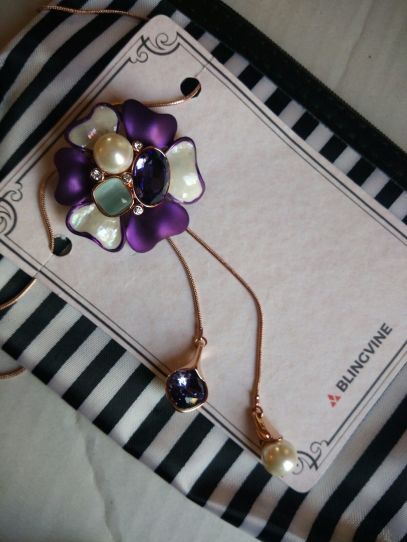 Just got my order. Its gorgeous! Can't wait to weat it! It looks just fabulous.
Kriti Bajpai
Such a lovely long chain. The purple color is so vibrant and the pearl and crystals are lovely. Best thing about the chain is that the size of the chain can be adjusted by pulling the floral pendant up and down. Lovely!