" Beautiful and simple, just the kind of jewlry I was looking for – Vanita George"
" I'm personally most impressed by the quality of this necklace – Mohika Chhabra "
Free
shipping
This necklace set with Blue crystals and Cat eye stones laid on your neckline, vividly captures the beauty of grapevine, the fine tender tendrils wrapped around the twigs. The plethora of colors make this set vivacious and fun. The 18K Rose Gold plating makes colors of the crystals stand out fabulously. 
Stylist's Notes:
This necklace set is stunning piece with the tendrils pattern, made with delightfully colorful crystals. The Blue crystals make it vibrant and soothing. This is a perfect piece for special occasions when you want to wear something fun and not-too-heavy. 
What's Included:
1 necklace
1 pair of small drop earrings
Material:
High quality faux Cat eye stones
Red Austrian crystals
18K Rose Gold Plating
High grade lead and nickel free environmental alloy
Size:
Length of earrings: 20mm
Width of earrings: 10mm
Necklace chain: 450mm + 50mm extendable chain
What others are saying
Vanita George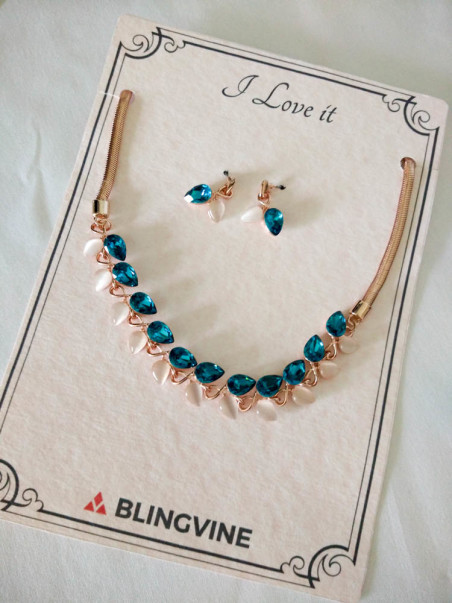 Ordered this beautiful necklace 3 days back and got it today. What a wonderful piece. Beautiful and simple, just the kind of jewlry I was looking for
Mohika Chhabra
I'm personally most impressed by the quality of this necklace. Every stone is fixed properly and the finish is so clean. Beautiful