Speechless. It is so delicate and beautiful, feminine to the core. I feel so pretty wearing it :O - Malvika Sharma
Such a gorgeous bracelet. All the hearts in the links are so clearly defined. Looks beautiful on the hand - Vaishali
haha, when I got this all I could think was that it would make such a perfect valentine's day gift for a girl. – Kinjal Anand
This precious little bracelet is the prettiest thing I bought lately. Fits so well on my wrists, i just dont feel like taking it off. hehe- Prachi
Free
shipping
The Paris Love Swarovski Bracelet is a tribute to the romance and the romantics!
Stylist's Notes:
You're going to love this fabulous Victorian Style Swarovski bracelet that is inspired by the romantic city, Paris! The lovely wristlet has interlocking Links containing beautiful heart shaped high quality imitation ruby stones which are delicately lined by clear Swarovski crystals. The Heart shapes are clearly defined which conveys the impeccable craftsmanship and the German polish adds the much desired luster to the metal base.
The Clasp is a Lobster Style Clasp so it's easy to put on one handed and is secure. The piece is durable and lays beautifully on the wrist. You'll love how it looks and love how it feels!
What's Included:
Material:
Swarovski crystals
High Grade Imitation rubies
German Rhodium polish
High grade lead and nickel free environmental alloy
Size:
Bracelet chain length: 19cm
Please see the last product image for more details on sizing
What others are saying
Mia Awasthi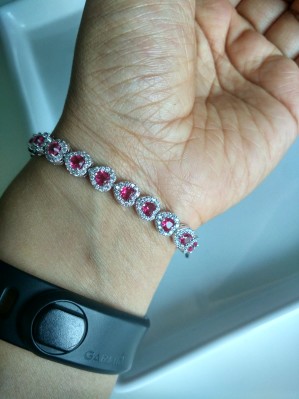 This bracelet was a love at first sight when I saw it on the website. But it looked even better when I got it. Super fast delivery, great customer service. They reached me personally on Whatsapp and kept me informed at every step. Great buy
Delicate feminine bracelet
Malvika Sharma
Speechless. It is so delicate and beautiful, feminine to the core. I feel so pretty wearing it :O
Vaishali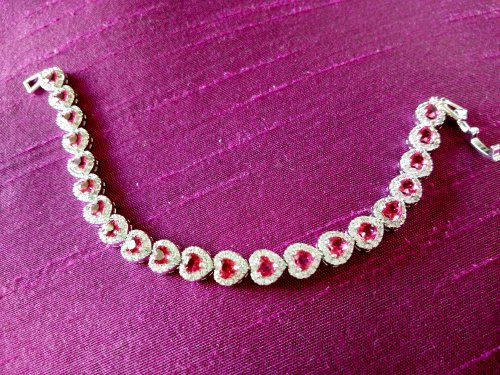 Such a gorgeous bracelet. All the hearts in the links are so clearly defined. Looks beautiful on the hand.
Perfect valentine's day gift for a girl
Kinjal Anand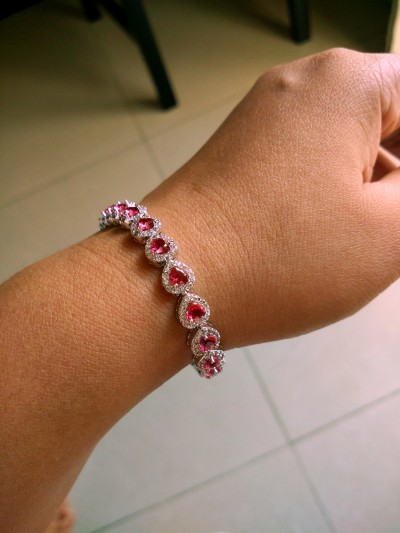 haha, when I got this all I could think was that it would make such a perfect valentine's day gift for a girl. I think I should have asked my husband to buy it for me as a Vday gift :P Excellent though. Very well made.
Prachi
This precious little bracelet is the prettiest thing I bought lately. Fits so well on my wrists, i just dont feel like taking it off. hehe